Despite the rapid adoption of eLearning, classroom training still has its place in the world of L&D. But what is classroom training and why should you consider choosing it for your next learning programme?
First of all, let's identify what the method is. Classroom, or instructor-led training, is any type of training which takes place typically in an office, conference room or classroom environment, led by at least one instructor or facilitator. Content is normally presented to groups rather than individuals, with time allocated for breakout work and discussion.
What does classroom training look like?
Classroom training is fairly simple in terms of how it's presented, usually in the form of a presentation slide deck or interactive document. Instructors work their way through presenting the content, sometimes breaking off into groups for interactive discussions which enhance group learning.
Here's an example of what this might look like: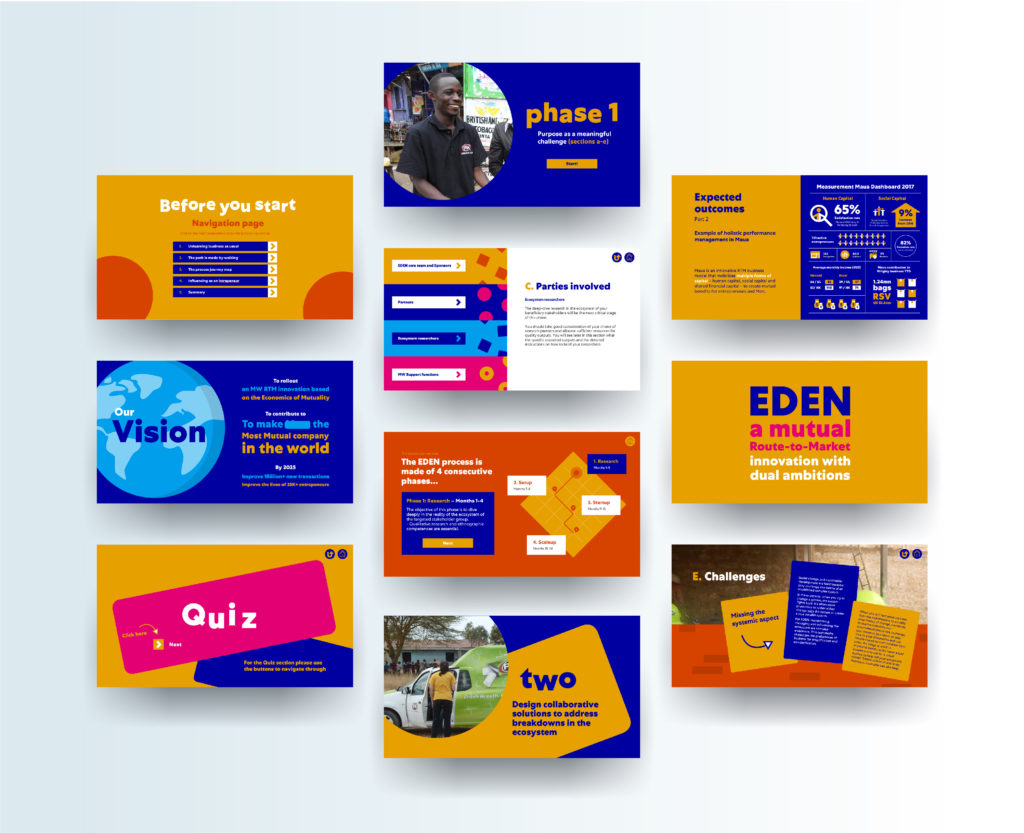 An interactive playbook designed for one of our clients. View the full project here.
What benefits can classroom training lead to?
Peer-to-peer learning
When using classroom training, peer-to-peer learning takes place, especially when instructors or facilitators encourage breakout group discussions. This gives learners a certain sense of community with their peers. Discussions require learners to explain and almost justify their viewpoints to others, leading to deeper understanding of the content for them.
Instant support available
Perhaps the major benefit of classroom or instructor-led training is that learners have instant access to support with content. If they're unsure on a particular section or want further clarification, they can simply ask the facilitator to clarify. This helps with their understanding of topics and can ensure they retain knowledge better. It's one of the major advantages classroom or virtual training has.
Personal interaction
One thing classroom training gives learners is personal interaction, something which is missing in technology-based learning. 82% of employees said that interactive videos hold attention better than non-interactive, and this is replicated with human interactivity too. Human interaction helps learners remember content associated with certain parts of the course. It can really help with retaining information.
Who is classroom training for?
So you've seen some of the benefits classroom training can lead to, but who would this method be useful for?
Confident on delivery but not design
Let's give an example. Helen is a HR Manager who regularly presents to 200+ internal employees and feels confident delivering. However, design is not her strong point and she would need support in creating engaging and high-quality content.
What's the solution for Helen? Luckily for her, Olano take pride in our exceptional design skills when it comes to creating engaging training content. Our specialist team would spend time with a specialist matter expert (SME), in this case Helen, to understand what she is trying to achieve. Then we trust our designers to do what they do.
Helen can combine our well-designed content with her strong presentation skills to deliver training which delivers!
Confident in design but not delivery
Now let's give another example. Anil is a Marketing Manager looking to implement an employee engagement programme across his organisation. He has developed adequate design skills but does not feel confident presenting. Why should he choose classroom training?
This method can solve Anil's problem. When creating solutions for our customers, we provide a facilitator's guide designed to support presenters with delivery of content. So when presenting, Anil can refer to this guide which will guide him on what needs to be covered throughout the training programme for maximum results.
Anil may also choose to use certain modalities of content which suit his delivery style and play to his strengths. Videos, sound bites or animation can offer a break for the instructor or facilitator, taking the emphasis off them for a while. This helps those who lack confidence or prefer not to deliver training in this format.
Require L&D expertise and knowledge
In the next example, Morgan has started a new role as HSE Manager who needs to train over 500 employees across multiple sites on fire safety. Her time at college means she has sufficient design skills and would feel confident enough presenting to small groups. However, Morgan lacks expert knowledge and understanding of implementing L&D programmes having only started her role recently.
We would use our experienced team's expertise to support Morgan with the delivery of her training programme. It's designed with the end user in mind, creating interactions which would engage Morgan's employees to digest and absorb content. Through a combination of crisp animation, well-structured video content, tactically-placed knowledge checks and interactive group discussion, Morgan can trust that her learners will enjoy a thorough learning experience!
Classroom training works perfectly for small groups
Sam is an office manager that has 10 employees reporting into him, all in the same location. This makes it easier for them to meet together in a single room and access content, which would make classroom training the ideal option for his business.
It's straightforward to gather all employees and deliver the session together rather than having to pay more for development of an eLearning course which can be accessed sporadically. For businesses in a similar situation to Sam, classroom or virtual training is perfect.
These are just some examples of how effective classroom training can be for a range of businesses spanning a variety of sectors, depending on their individual business needs.
We hope you have a better understanding of what's involved in classroom and virtual training and who it can work effectively for. If you think it works for you and want to create a programme for your learners, we would love to start a conversation to better understand your needs. Get in touch and let's build your next project together!