June has been a month full of creativity, within both our work with clients and internally as a brand. We've been homing in on our skills, experimenting, and pushing boundaries.
We believe including media such as, animation and video in learning is extremely important, so we have put heavy emphasis on furthering the engagement we can provide through them.
Combined with this month of creativeness has come a lot of celebration.
So, it's time to find out what we've been up to this month, let's dive in…
Our Top 3 Monthly Projects!
Controls Software Principles
In April we talked about the development of the first of the 2 in the series of these eLearning courses for our client. This month we have been developing the second course.
The course is highly technical and delivers the theory of conveyor system design. It is important within a Warehouse and Parcel environment that these systems are running efficiently to maximise capacity. Consider the likes of Amazon, for example, they must have an extremely busy warehouse management system in place to keep up with the demand of you as a customer. Therefore, the engineers who design such systems must be at the top of their game when implementing the design.
Erango Explainer video
In collaboration with Erango, this month we have developed a 3-minute explainer video which defines the need and benefits of Erango within a working environment.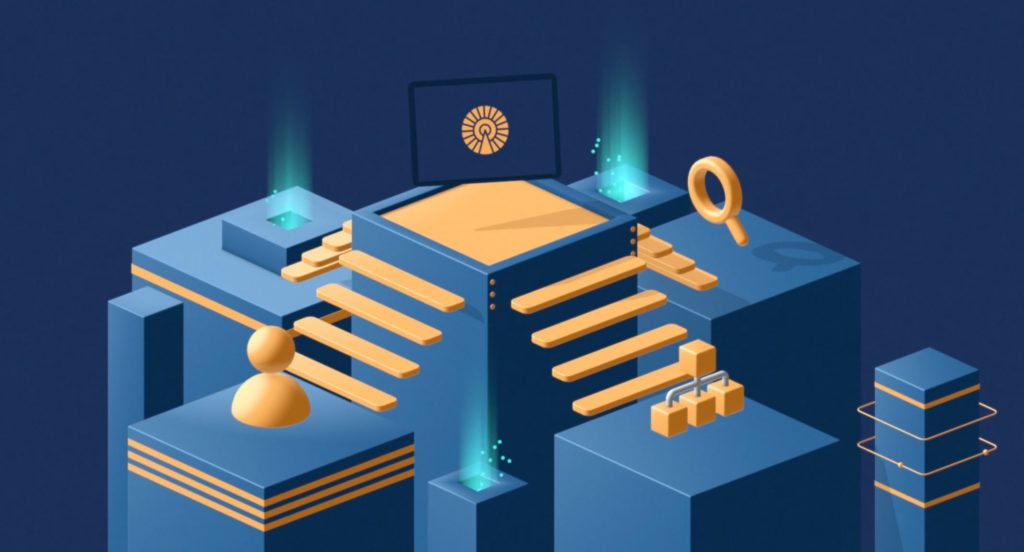 The collaboration was a success, and you can soon see the explainer video on their website.
Service Excellence eLearning
In order to maintain a high-quality product globally for our confectionary client it is essential to make their Associates aware of the Pillars which make up the excellent supply chain process. In knowing how these Pillars work together every site and factory can run a golden standard across their production lines.
We are working in collaboration with the client's LXM to product an awareness eLearning course which contains interactions, animations, videos, soundbites and a fully animated isometric factory aid of this information that will be delivered to new associates unaware of the process standard.
We'll be sharing some sneak peeks on our Instagram in the coming weeks! Watch this space.
The Team Round-up
We began the month by celebrating Sheena's birthday. It's been a busy few months for her as a Graphic Designer, so the Jubilee weekend was timed perfectly alongside the obligatory day off to give her a long weekend to enjoy herself.
She spent time with her friends, soaked up the sunshine, and got some much deserved relax time.
As a team we clubbed together to give her a little birthday surprise…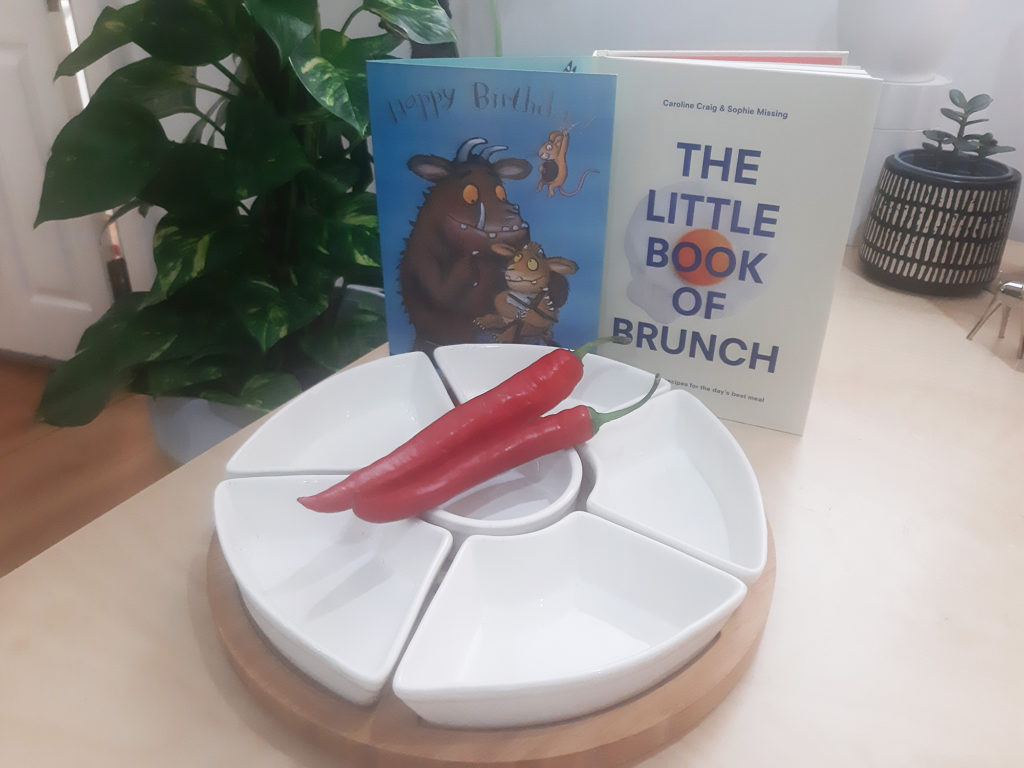 She's now got an endless amount of brunch options with her new cookbook!
As mentioned already in the UK we also celebrated the Queen's Platinum Jubilee which represented 70 years of her reign. This meant countrywide we received a June bank holiday in order to get involved these celebrations.
Some of us joined in with street parties, held a celebratory BBQ, and we all appreciated more time in the sunshine outside of work.
Midway through June Matteo re-joined the team as Junior Graphic Designer. He previously held a placement here and since coming back has been working on creating animations and content for olano as well as supporting work with Erango.
It's great to have him back and look forward to seeing more of his creations.
Finally, we rounded up the month by celebrating Pride month. Throughout all on June we have been celebrating Pride both in and out the office, but look at what we got up to at work…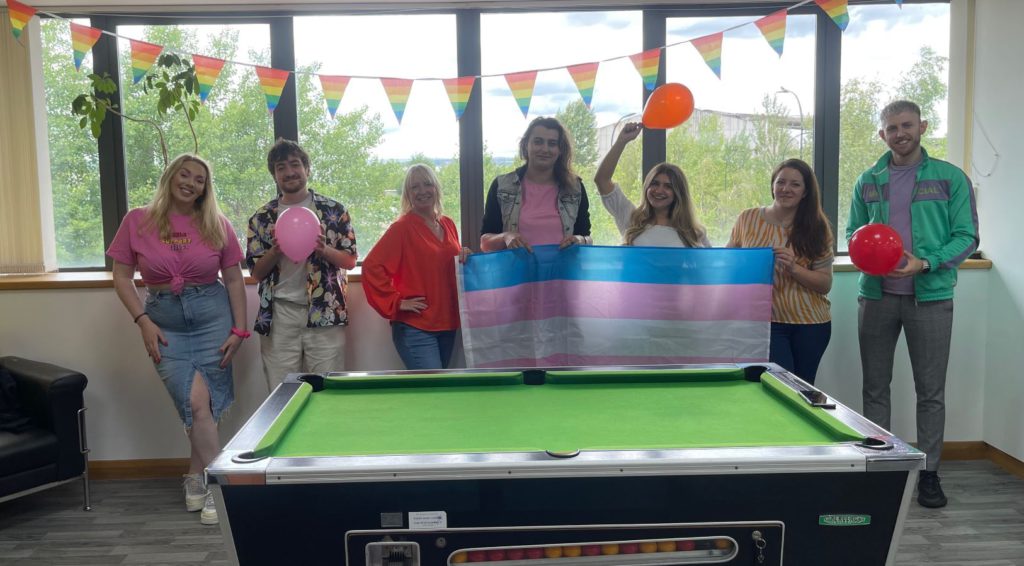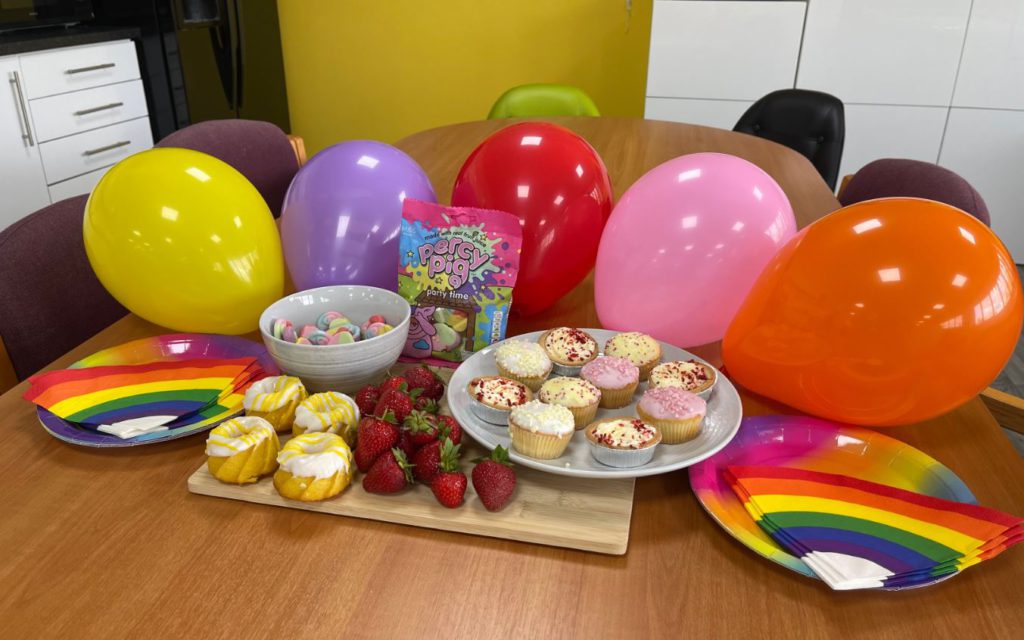 The whole office came in, in their most colourful attire and some of our colleagues even treated us to some Pride themed sweet treats.
At olano we are constantly developing new and innovative learning. Additionally, alongside this we are involved in numerous events, celebrations, and charity appeals that bring positivity within the workplace and out to the wider community. Want to learn more about us? Here are our other Monthly Round-ups.