As part of a wider exploration into the world of animation we asked Matteo to lead on the development of an 8-bit style animation. We spoke to Matteo and asked him to explain what was involved in the project…
What have you created?
My original brief was to create an animation experimenting with the Olano brand, pushing guidelines for how we promote ourselves. This offered an opportunity for me to be unconventional with the brand and allow me to use keywords to theme each animation.
What I've created is a throwback to all retro 8-bit/16-bit games we used to play on the Super Nintendo, featuring Olano characters. It's designed to feel like you're watching somebody play a game from that era.
Where did your inspiration come from?
The idea first started as a keyword like other animations I was working on, initially being labelled 'Retro Video Game'. After working on two similar animations within the same project, I began brainstorming and developed a theme style.
The two main sources of inspiration for this were Super Mario World and Mega Man 2, both games I played as a kid. I studied how the sprites, levels, enemies and interactions were designed. Analysing frame-by-frames helped me visualise how I could create an animation.
What was your starting point?
I began by creating the sprites, sketching ideas on who and what I wanted to show during the animation. Using sprite sheets for reference, I started constructing the player by using the body of Mega Man as inspiration for the Olano characters.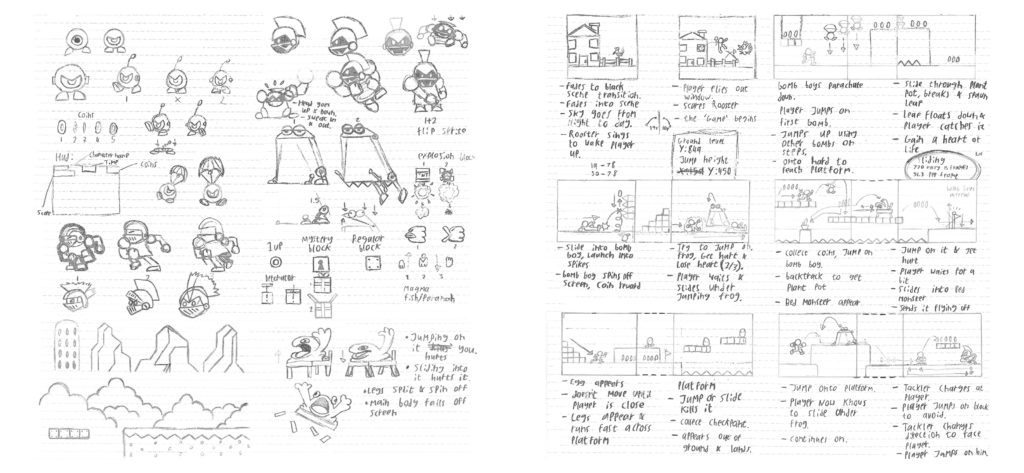 What did you enjoy most about the project?
My favourite part of this project was animating player movement across the level. Seeing the character interact with the level used throughout storyboarding was very satisfying, and exciting to see it finally happening!
What challenges did you face when creating this project?
I faced lots of challenges throughout this project, with many linked to the character illustrations. The pixel art was time consuming and I had some issues when exporting sprites. At times it was difficult trying to find a solution, but this helped as I was able to learn a lot.
What did you learn from working on this project?
It was refreshing to create an animation which taught me a new style of art. Before this project, I had never drawn any pixel art but it's something I really enjoyed. My animation skills developed too, learning new methods in After Effects.
Would you like to work on another project like this in the future?
Definitely, I would love to! Video games are a huge market and one of the best entertainment mediums out there. They're a great way to capture imagination while acting as an interactive learning tool for people to learn from too.
Want to see the whole project? Visit our Instagram page to find the full campaign!
Enjoyed reading about the Olano All Stars animation and want to create your next project? Get in touch to see how we can help!