Our last blog identified areas businesses are looking to focus their L&D efforts on this year. Companies are starting to prioritise their people and recognise the importance of investing in them to help develop new skills. That poses a question – what skills are in demand for 2023?
LinkedIn have recently released their 2023 Most In-Demand Skills List. Whether you're a business searching for talent or a candidate looking to move, find out which skills are in demand and apply them for success in 2023.
#10 Teamwork
Teamwork will always be a key skill for businesses due to the nature of individuals with different backgrounds, experiences and areas of expertise. The digital transformation of business has created new areas of business. Empowering those with new skills and trusting them to upskill colleagues is a path organisations are choosing to go down in 2023.
#9 Marketing
Marketing skills are in demand across almost all business functions. It can open doors for sales people to pitch, help attract candidates in a talent shortage and allow businesses to grab attention and stand out from the rest. It's part of relationship-building and the customer experience concept too.
#8 Analytical Skills
Ranked eighth on the list is analytical skills. There is an increasing need for individuals to analyse their markets and find solutions to problems, and these skills are essential for being succesful with that.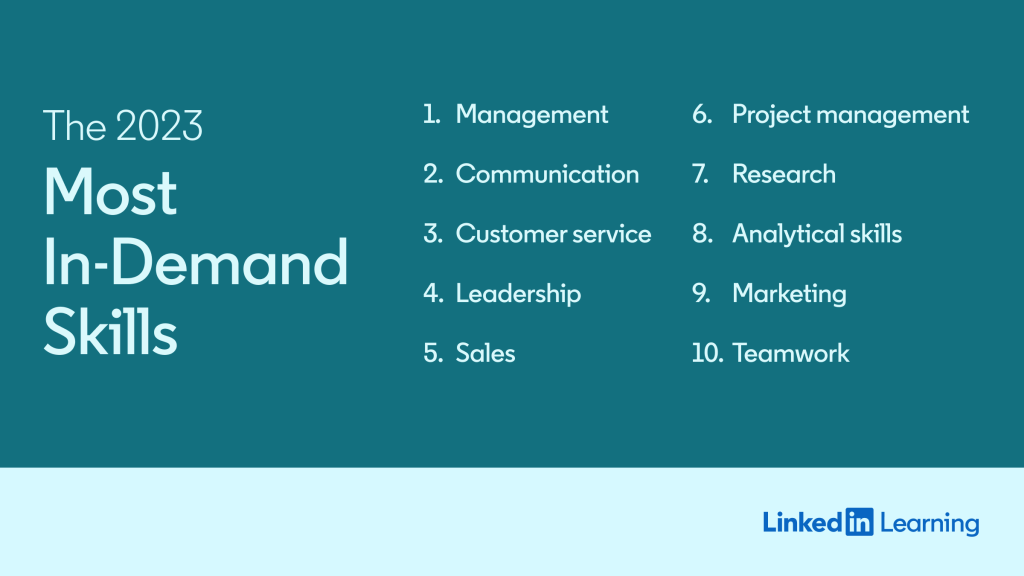 #7 Research
Recent budget restraints have caused the need for more informed decisions to be made, which requires extensive market research. TikTok has led to businesses to identify market trends and adapt to them agilely too. Research skills are so important for companies in 2023.
#6 Project Management
Project management skills are in demand for businesses too, ranking sixth on the list. Budgets have been tighter recently, making it essential to meet deadlines while maintaining quality standards. Remote working and virtual adaptation has added an extra challenge for companies, increasing the need for effective project managers.
#5 Sales
Economic downturn has caused a reluctance to invest, candidate shortages have made recruiting difficult and retention has become a real struggle for businesses. High quality sales personnel can provide the answer to these problems, which is why it's no surprise to see this in demand for many organisations.
#4 Leadership
There has been lots of change recently in the business world and a ton of new challenges brought on by the global pandemic. Without modern and effective leaders implementing change and driving their team to success, organisations will sink. That's why leadership skills are in demand for 2023.
#3 Customer Service
Customer service skills are in demand too, coming in third place on the list. The importance of customer experience reached an all-time high in 2022, with 88% stating it's now as important as the product/service. Exceptional customer service has become a huge weapon for building brand loyalty.
#2 Communication
The world has become more digital-first, with many businesses adopting remote-working strategies. That's called for employees to need to be effective communicators across virtual platforms too. Communication is as valuable as it ever has been.
#1 Management
Management was ranked the most in-demand skill in 2023 by LinkedIn and is needed across all job functions and sectors. It's key for engagement and retention too, one of the major priorities for many businesses this year. That's why it's hardly surprising to see it rank top of the list.
It's interesting to find what skills are in demand for businesses currently – but this is an ever-changing concept. Those businesses who actively encourage their employees to upskill themselves are the ones who will gain competitive advantage and stay ahead in the future.
Want to encourage employees to upskill but don't know where to start? Get in touch with us today for a free consultation on how we can help!
---